Convert your conservatory to a year-round living space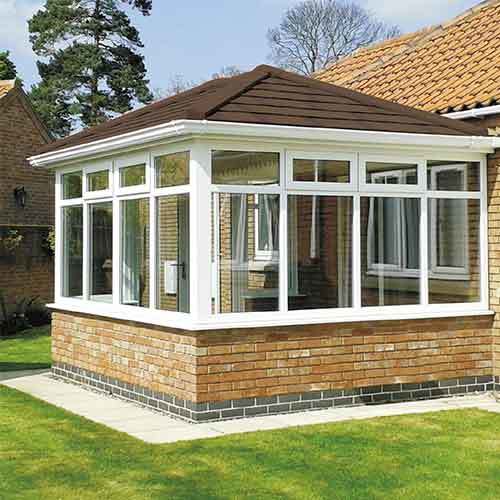 Do you find that you are not using your conservatory in the cold winter months?
 Do you find the space gets too hot to use in the summer? Seems like a real wasted space for more than a quarter to half of every year, doesn't it? Well, it doesn't have to be that way.
Existing conservatory owners are converting theirs by fitting tiled rooves onto their exiting frames and creating a living space that can be used all year round. At Acorn we have been fitting the lightweight tiled Supalite roof for years and our customers have been delighted with the results. Many have contacted us since and told us of the increased use of the space and the additional warmth that they feel the space gets in the colder months.
A solid tiled supalite roof will provide you with a warmer in winter and cooler in the summer living space that you can enjoy 365 days a year.  These are fully compliant with current building regulations and we will provide all the necessary paperwork to prove your roof is lawful.
How is it fitted?
The first part of the process is to remove the existing glazed roof. The whole roof is taken off (and taken away) and a lightweight frame replaces the old joists. Once the new frame is in place and fixed, the new guttering is put in.
Next up is the insulation and once these panels are in place, they will provide the winter protection your glazed roof doesn't. Once the insulation is fitted, it is covered with a tough waterproof membrane. Onto this layer the roof batons are fixed, these provide a gap for airflow underneath the tiles and prevent you having problems with condensation.
A metal retaining plate is fixed onto which the tiles can be fitted. The tiles are then fitted until the roof is completely covered. There are special panels that cover all the joints and these are fixed in place. Your fitter will then turn their attention to the inside and finish that final part of the project. Aluminium foil is fitted across all the internal joins to seal all these joins and once that is done roof batons are fitted ready to take the internally fitted insulated plasterboard. This will provide a great finish and keep your new living space much warmed throughout even the coldest months. The ceiling can then be skimmed and painted to suit your taste.
Your project will have taken about 5 days and you are now ready to enjoy your new space all year round.
What are your options
When choosing the best solution for you is it best to know your options and to understand the possible ramifications of those. One of the options is to simply wrap the existing structure over the existing structure. The main concern when looking at this option is the stress to the existing roof and the walls of your conservatory and the potential problems you may have surrounding building regulations. Often, these kind of problems become of major concern when you try to sell the property and can even jeopardise a sale. Your current structure has been designed for glazing and not a heavier tiled roof and so the stress on that existing set up should be carefully considered and only considered with a reputable company. Our choice was to fit the nationally renowned Supalite that fully satisfy all the local authority building control departments and we will then provide all the necessary paperwork to ensure the new roof is lawful. If you have chosen a tiled roof then you will have a range of options in terms of tile style to choose from and to match into your existing property type. We can help with all aspects of your project and are very happy to offer free no obligation quotes so that you can get an idea of costs for your own conservatory.