HIGH CLASS DOOR & PATIO CANOPIES
Canopies will add a touch of elegance to any home. We specialise in all types of canopies and as we manufacturer our products we can also guarantee the quality. All our canopies come with a full 5 year guarantee
Add an elegant finishing touch to the front of your South Wales home with a stylish door canopy. We supply and install an elegant range of cost effective canopies tailored to suit your needs, no matter how specific. With a large number of different styles and colours to choose from, we will supply the perfect door canopy for your South Wales home.

All Acorn's canopies have been fully weather tested, are completely maintenance free, and can be quickly and easily installed by our professional fitting teams.

A patio canopy instantly adds style to your home and a new dimension to living, giving you all year round access to useful and comfortable space.

Sitting outside and relaxing in comfort now becomes a pleasure you can experience for many more days each year. A patio canopy can transform your South Wales residence, creating an extra play area for the children, keeping them dry and safe while they are out in the fresh air.

Acorn can fit your canopy as a simple patio feature, or extend it with one of Acorn's purpose designed corner fitment units, to merge into a covered walkway or carport at the side of your house.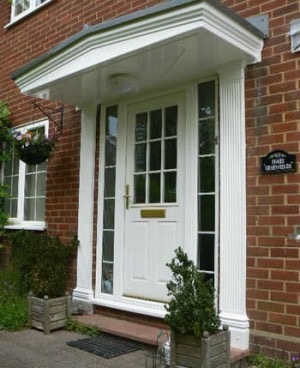 OUR VISION
To continue to build on the quality and service that we offer to our customers and to maintain a reputation for work of the highest standard.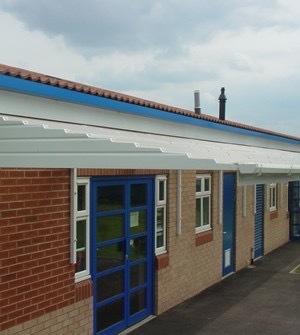 School Canopies
The benefits of letting your children out to play are plentiful, both in their development, health and in helping them to concentrate when lessons begin again. Why let the British weather spoil the fun they have at break-time and lunchtime?
Acorn Canopies has the perfect answer as we can give your pupils and staff the ideal place to shelter from the elements or shade them from the sun.
Whether you want a sheltered walkway between classrooms, or a covered play space or seating area, Acorn Canopies can design and install a unique system to provide all the protection you need.
Industrial Canopies
The strength and unique design features make our canopies ideal for industrial and commercial use. Because they are self supporting and need no foundations, they can be installed on most buildings in areas of restricted access. Industrial and commercial canopies can be used to protect people, products, raw materials, equipment and machinery in a host of working environments.

Typical applications are loading bays, doorways, storage areas, walkways around factories, schools and hospitals, and protection for remote machinery and monitoring equipment.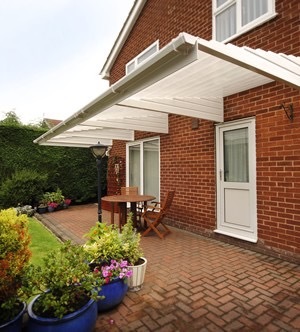 Just contacting you to say how happy I am with the windows and doors I've had put in over the last 3 days, the men who were Dan luke and Robin were always very polite and cleaned up every day. I would highly recommend this firm to other people, so again thanks x
Hi, Just wanted to say a big thank you to your fitters Luke and Daniel for fitting my windows and doors. Excellent service, friendly and approachable. Good work guy's I'm very pleased.
From quotation installation everything was excellent. The work was carried out expertly and efficiently by courteous and polite workmen and when completed I was extremely pleased with the result. I would happily recommend Acorn Windows to anyone.
Very friendly from start to finish.
We can produce carports and porches of any size and shape and our team are always on hand to advice on your project.
System 200 carports can be installed where access is restricted or where there is no room for the old fashioned type, which needs support pillars and foundations. They can be used to cover not only your car but also your caravan or boat for over the winter period.
The unique "no legs" design ensures every carport is completely self-supporting giving more space and no posts to bump cat doors into.